Description
Live performances with a wine and cheese reception to follow.
About this Event
Join us for an afternoon of music where we will celebrate the great American Songbook. NiCori Studios & Productions presents the series MUSIC AT THE MANSION featuring award-winning and renowned singers and musicians from the New York metropolitan area and beyond. The series features three performers each entertaining for 25 minutes and a Young Musician Moment, all hosted by multi-nominated singer Corinna Sowers Adler with the incomparable John DiPinto on piano. Wine and cheese reception to follow.

NiCori Studios & Productions has been producing MUSIC AT THE MANSION in NJ, MD and PA for the past 12 years, including over 30 PORCH PERFORMANCES outdoors over the past two years. The MAC (Manahattan Association of Cabarets and Clubs) nominated series has had many Broadway and Cabaret luminaries including Mark Nadler, KT Sullivan, Rosemary Loar, Christina Bianco, Nicolas King and many others.
Featured performers on September 25th will be multi-award winning performers: Jeree Wade, Clearly Now (Sean Harkness, Lina Koutrakos & Marcus Simone) and DC Anderson with Julia King as the Young Musician Moment.
$35 per person // includes performance & post reception
$40 per person at the door (cash only)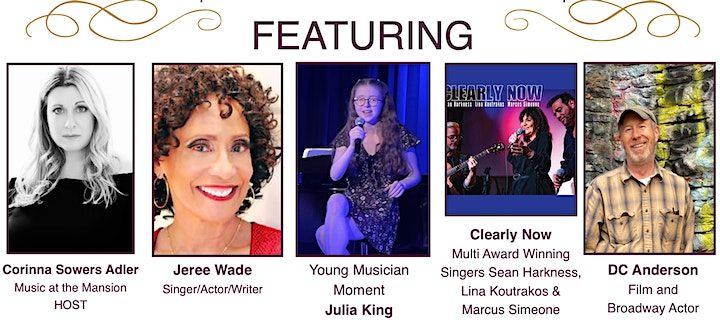 Also check out other Entertainment Events in Morristown, Music Events in Morristown, Performances in Morristown.
Tickets
Tickets for Music at the Mansion - Thorne Mansion can be booked here.
| Ticket Information | Ticket Price |
| --- | --- |
| General Admission | USD 35 |
https://allevents.in/morristown/music-at-the-mansion-thorne-mansion/10000439691999607
A Legna Wood Fired Pizza, 47 S Park Pl, Morristown, NJ, USA
02/08/2023, 6:30 pm - 02/08/2023, 8:30 pm
Music
Shanghai Jazz Restaurant & Bar, 24 Main Street, Madison, NJ 07940, United States
02/09/2023, 7:00 pm - 02/09/2023, 10:00 pm
Music